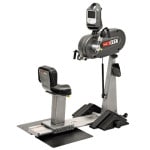 I'm very excited to announce that Tri City Physiotherapy will now offer a top of the line upper body ergometer to offer an even wider range of rehab options for our patients.  An upper body ergometer is best described as a bicycle for your arms. Your hands hold pedals and your arms move around in circles as if pedaling a bike. You can sit or stand in front of the ergometer for a no-impact cardiovascular workout that uses only your upper body.
Upper body (arm) ergometers aren't a gym staple, but they're becoming more readily available in many of the top physical therapy offices, hospitals, and universities. These machines are targeted to meet the fitness and rehab needs of individuals who cannot use their legs for physical activity, either due to an acute injury or chronic pain, or for those patients with an upper body injury trying to return range or motion or strength to their upper body.  These machines offer a great cardio workout that uses the upper body instead of your legs.
Who can use an upper body ergometer?
Individuals with spinal cord injuries, multiple sclerosis, or lower body disability
Individuals with chronic pain in the knees, feet, ankles, or hips.
Individuals who need a low-impact exercise program
Individuals who are recovering from foot or leg injury/surgery and have clearance to continue working out, but can't use their legs.
Anyone who wants to vary their cardio workout program
Shoulder Pain or Problems?  Just had upper body surgery?
No problems at all…  If you have shoulder pain, shoulder surgery, or any other upper extremity problem that may affect the strength or endurance of your arms, your therapist may choose to have you use the upper body ergometer while in the clinic. Also, if you have worn a sling while healing from injury, you may notice that the strength and endurance of your arms is impaired. The upper body ergometer can help you improve your strength and endurance to help improve the function in your arms getting you back to your regular self faster.
Is it Safe if I've had Heart attack, or Bypass Surgery?
If you have had a heart attack, cardiac problems, Bypass surgery, or pulmonary (lung) problems, your doctor may refer you to physical therapy for cardiac or pulmonary rehabilitation. The upper body ergometer may be used to help improve your cardiac endurance or pulmonary function so you can quickly get back to normal activities.
Bypass patients still have to follow the standard restrictions for upper body exercises for the first part of their rehabilitation.  Once these restrictions have been removed by the supervising therapist in conjunction with the supervising physician, the upper body ergometer can be safely added to the rehab process.
Sci Fit Pro
We have ordered the Sci Fit Pro 1 http://scifit.com/proseries/pro1.shtml there is lots of good information on their website as well as lots of details about the machine.  Some of the features are:
Adjustable tilt head for all heights and ranges of motion
True , adjustable step-through accessibility
Bi-directional exercise
Iso-Strength safe, accommodating strength program
Very low starting resistance
Wheelchair platform
Fully adjustable seat
This model is compatible with the polar straps, so our cardiac patients can still monitor their heart rate using their straps.   Our non-cardiac patients can buy or bring their own polar straps to use with our machines.
For those interested in any of the scientific articles and research behind the upper body ergometer, please ask one of our staff members and we'd be happy to provide them for you.
We're all excited and looking forward to adding this great piece of equipment into your rehab routine.