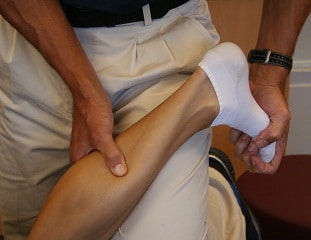 What is Soft tissue release?
Soft tissue release is a therapy where pressure is applied on a muscle or connective tissue during movement to fascilitate a stretch or lengthening of tissue.
To maximize effect, the pressure is moved during the stretch to release different parts of the mucle or connective tissue.
Why soft tissue release?
The benefits include increases in venous and lymphatic drainage, increasing fluid absorption, mobilizing adhesions, breaking up scar tissue and helping overall collagen flexibility.
In all, soft tissue release combines stretch and massage which together have better effect on decreasing the size of the scar/painful area and helps organize the direction of the fibres which ultimatley lessens strain. The technique is rhythmic, relatively gentle and takes place in multiple planes to help create a greater range of motion overall.
Still confused or scared it will hurt?
Good youtube video showing how it is done on a hamstring.  Soft Tissue Release
Interested in knowing more.. or are in need of this type of therapy…
Call our staff to book your appointment now or to speak to a therapist.
519-620-2229