The treatment you need,
the care you deserve.
Tri City Physiotherapy is a locally owned and run health care facility. Every day we provide evidence based rehabilitation services to members of our community to help them achieve optimal health and wellness. We serve the Cambridge, Kitchener and Waterloo Ontario areas.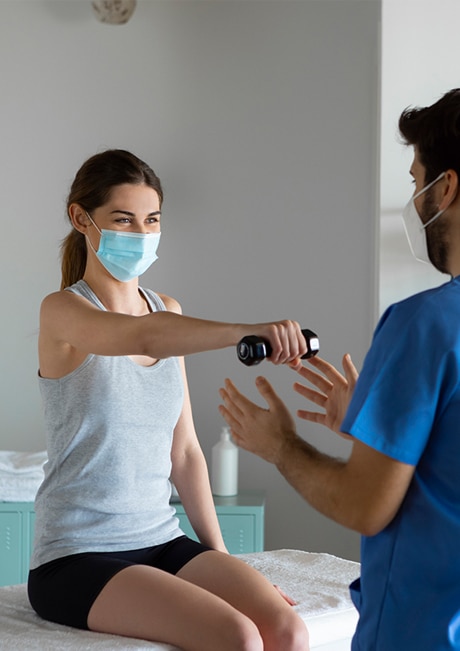 ABOUT TRI CITY PHYSIOTHERAPY & REHABILITATION
Let us help you feel better!
Physiotherapy is an essential part of the rehabilitation process for people with muscle, joint and nerve pain or dysfunction.
The Physiotherapist's goal is to reduce pain, restore optimal function and overall well being. Our physiotherapists use a wide variety of treatment approaches tailored to your specific condition and needs.
Tri City Physio uses many therapy options to ensure an optimal approach to your care. You will experience a variety of gentle therapy solutions that can help reduce pain, strengthen, add flexibility, improve joint range, and more.
Physiotherapy Services
If you are coping with physical limitations, painful injuries, chronic conditions or sport-related problems, physiotherapy can offer you the relief you are searching for.


Cardiac Rehab Services
Cardiac Rehab is a medically supervised program that is designed to smoothly guide you towards the improved health and well-being of your heart and body.


Pelvic Health Services
Pelvic health therapy focuses on the underlying cause of discomfort and dysfunction found at the musculoskeletal level.



Massage
Therapy
Registered Massage Therapists manipulate your muscles and other soft tissues of the body with varying degrees of pressure and movement. This helps to relieve pain and tension.
Orthotics and Pedorthist
A Certified Pedorthist will assess your foot and lower leg, to provide recommendations on treatments for your pain which may include custom made foot orthotics or footwear.
Vestibular Rehabilitation
Vestibular rehabilitation is done to help make the brain relearn to recognize and interpret signals from the vestibular system in sync with information received from vision and proprioception.
Pool
Therapy
The only Clinic in the region to offer ONSITE pool hydrotherapy with trained and certified staff in Aqua Therapy. It's fun, it's gentle, its warm.



Helmet
Therapy
Learn the facts about abnormal head shapes in infants and what to do if your baby needs treatment.



Read more for our latest news, updates, and information about Tri City Physiotherapy, our services, and the health care world.
Book your initial consultation.
Let us help you to start feeling better today!